HOW TO CHOOSE THE PERFECT HAIRSTYLE FOR THE WEDDING DAY
After months of preparation, the last things on our minds before the wedding are makeup and bridal hairstyle.
Every bride-to-be spends a long time preparing for this day. There are countless ideas and styles for wedding hairstyles on the internet: Pinterest, Instagram, The Knot, Brides, and many other websites offer a wealth of inspiration.
Every lady has spent hours and hours looking for that perfect hairstyle.
As women, we are obsessed with our hair. We are never really satisfied with our natural hair and always strive for a change.
Therefore, I know how difficult it is for you to choose the perfect bridal hairstyle for one of the most important days of your life. Through this blog, I can only describe various situations where I have encountered a "perfect hairstyle" at weddings. So, let me start with:
Wedding hairstyle - BUN
Her Majesty the Bun.
The majority of girls choose a bun as the perfect hairstyle for their wedding day. I think it's absolutely understandable; the bun is elegant and refined, and therefore goes very well with a wedding dress.
When choosing different styles of buns, pay extra attention to the complexity of the hairstyle.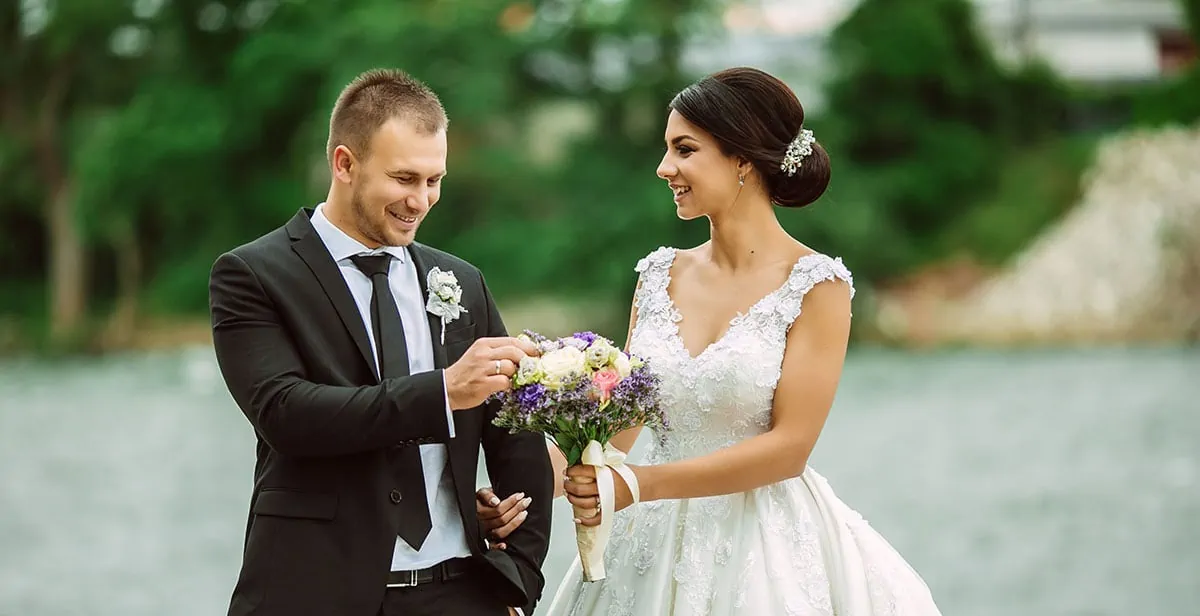 Unfortunately for most brides the bun fell apart right after the religious wedding ceremony.
Why did this happen?
–   Our hairdressers, unfortunately, are not skilled in making them., of course he will never say I can't do it but he will suggest you a trial hairstyle.
What's worse is when you get to the final making they don't even remember the trial hairstyle so you have to show them the photo again.
When making it, they use hairsprays that are not strong and durable, and hairpins that are of poor quality and do not hold the hair well.
- Pay extra attention to the height of the bun especially girls who get married in the Orthodox Church.
I say this because when crowns are put on you and when you change the crown, there can be a slight loosening.
Wrong height is also a problem when wearing a crown while walking in circles.
So that it doesn't happen that we have a bride in the recordings and photos who is fighting with the crown, so that it doesn't fall off her head and her hair stays in place.
Believe me, it is not at all pleasant for the bride, nor nice for photo and video.
- After the wedding ceremony there is usually a congratulation to our happy couple, after a couple of hugs, some hairpins fall out.
A few mischievous strands of hair are released and escape from the bun.
- Add heat to all of the above, sweat, moisture, rain, wind…
Take all this into account when choosing a bun as the perfect hairstyle for wedding day.
WEDDING HAIRSTYLE - BRAIDS AND PONYTAIL
A ponytail doesn't sound like something sophisticated or elegant as a choice for the perfect hairstyle, our girls avoid it.
However, there are beautiful sleek and elegant ponytail designs that look really nice with a wedding dress.
Braids are also a rare choice, mostly chosen by ladies who have opted for boho wedding.
Braids are very popular in the world. There is a large selection of braids; normal, side, herringbone, half-braid, etc.
They can look very romantic, which with the right choice of wedding dress can be a complete success.
What can go wrong with them?
–  Again of course not the expertise and inexperience of the hairdresser. As easy as it may seem to make a braid or a tail, it is not.
In order for this hairstyle to withstand all of the above, it must be professionally and firmly done. Firm but again not too much so as not to cause headaches and discomfort.
– Perhaps the biggest problem here they can make hair ornaments that are added to a braid or ponytail.
There are a small million accessories and hair ornaments, when choosing it would be good to make sure that it is comfortable to wear and easy to put on.
It must be comfortable because it will cause you a problem if it squeezes, stabs or constantly slips, and simple because you may have to put it back on if someone accidentally pulls it out when you hug or it falls off when you change your clothes.
Of course, whenever your hair ornament moves, or someone catches it, he pulls out a small strand of hair that will peek somewhere mischievously.
In any case, unlike the bun, this has so far proved to be a better and safer hairstyle when done properly. It better withstands the inevitable hugs, moisture, wind and even rain.
CURVES, WAVES, STRAIGHT IRONED HAIR
Of course, everything again depends on the expertise of the hairdresser and the quality of the product he uses, because this hairstyle should last almost 20 hours of your wedding under various conditions, as I have already stated in the text.
Curls or straight hair both hairstyles are by some standards ordinary. Making a festive hairstyle out of an ordinary hairstyle is easy with good ideas and a hairdresser.
Some girls like their everyday hairstyle best. With a little effort and decoration you can get a cute romantic or elegant festive hairstyle. In case you have unruly hair that likes to push your story this is the perfect choice for you.
You will not have to think about whether the curls will loosen, whether the bun will fall apart, etc. They will be unencumbered knowing that your hair is the best in that style and you will enjoy your wedding in a relaxed way.
After all, it's up to you and your hairdresser. What you choose and in which you feel most beautiful, most comfortable is your perfect hairstyle for your wedding day.