HOW TO CHOOSE THE PERFECT WEDDING DRESS.
As a wedding photographer and videographer we have encountered almost every possible type of wedding dress, from princess cut with long trains, mermaid shapes, to lightweight boho lines.
We have seen almost all possible materialsfrom lace, chiffon, tulle, embellished with sequins or pearls, and colors are a story of their own.
We have gathered all the impressions that our brides have conveyed to us about their wedding dresses and have helped many of them to put on their wedding dresses.
Due to our experience, we decided to write this little blog and try to help girls choose the perfect wedding dress.
We are not fashion advisors, although we have an eye for beauty, we are not wedding dress sellers, we do not advertise or make anti-advertisements, we simply want to convey our experiences from our perspective.
Wedding dress - ball gown
popularly called princess, are that perfect choice.

Every girl's dream is to look like a fairytale princess on her wedding day.
To achieve that princess look, a specific type of wedding dress is usually chosen.
The A-line cut
The A-line cut is a slightly lighter version of the previous style. These dresses rarely go without an underskirt, which actually gives the dress its shape. The built-in wire in the underskirt is what gives the dress its shape, but also causes problems.
Since most wedding dresses are rented, underskirts are usually worn out. It often happens that the wire sticks out and starts to rub and poke or gets caught on the dress, causing problems when walking or dancing. Many girls have sore hips and waist because of these underskirts and heavy wedding dresses.
Also, if the length of the dress is not perfect on the underskirt, it looks ugly when walking. Similarly, the first dance must be adapted to such a dress, as the groom must always be at a short distance due to the dress.
Consider also sitting in such a dress and how it will look when it lifts slightly at the front due to the wire hoops in the underskirt.
There are also lighter versions of underskirts, but they cannot be used with certain models due to the weight and complexity of the dress. Our advice is to pay close attention to the underskirt.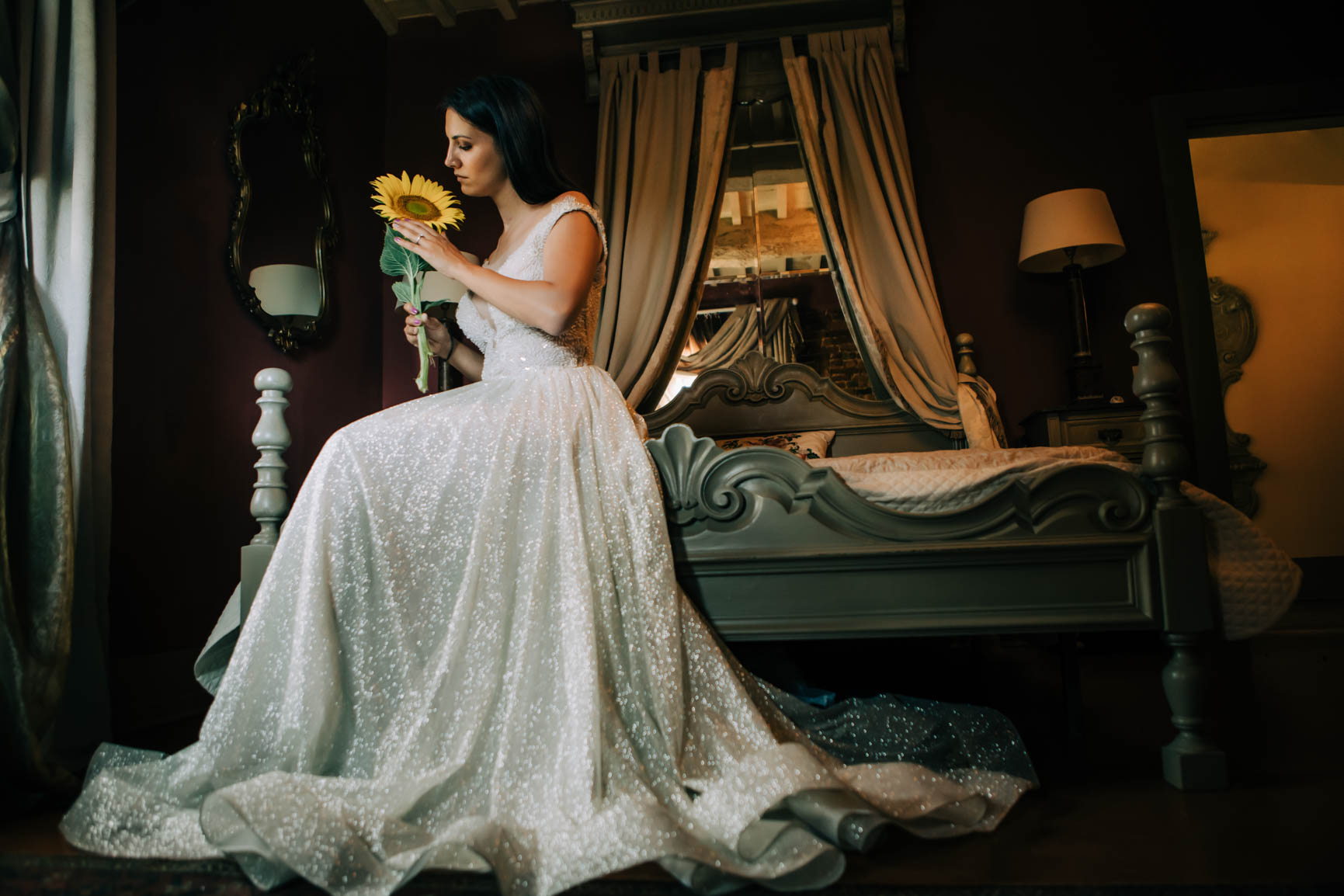 Mermaid wedding dress
The next popular choice is the mermaid wedding dress. Here, too, there are variations of the dress, for example, with or without a train, and with or without a petticoat with a wired hem.
And as with the previous types, the petticoat can be a problem, but not the only one.
We once had a bride at a photo shoot who could hardly walk on the grass because the layers of her petticoat kept rising from the wired hem. It caused her problems while walking and later during the photo shoot because they had to be adjusted again and again.
KAKO ODABRATI SAVRŠENU VJENČANICU
Someone might ask, what's the problem?
You can walk slower, you can adjust it every time.
Yes, it is possible, but the problem is always the lack of time on that day, which passes quickly, and of course, this can add to nervousness, which everyone wants to avoid.
Wedding dresses that rarely, if ever, require a petticoat are those with a high waist, a royal waist, or a straight cut.

However, all types of wedding dresses can be worn without those petticoats. We have seen frustrated brides simply take them off and continue to dance and enjoy the wedding without them.
Corset wedding dresses
Corset wedding dresses are very popular not only because they beautifully show off the bride's figure, but also because they highlight the beauty of the dress, the effort and skill put into the details.
With corset dresses, there are two problems: the reinforcements made on them can cause discomfort and chafing, which happens most of the time. The second problem arises when the corset has no straps or sleeves. In that case, we have a bride who constantly pulls up her dress. She herself does not feel comfortable because she has the feeling that her dress is falling off, which happens
This affects the whole day, her mood, the first dance, the party and dancing in general, photos, videos, etc.
Unfortunately, through our many years of experience, we have only had one bride who did not have a problem with a strapless corset.
Here, we will pay a little attention to the train, which can be particularly problematic when walking and dancing, which is why most girls keep it hooked.
The only purpose of that train is to be released when taking photos and shooting. In that case, especially if it is done in nature, the bride must have someone with her, a maid of honor or bridesmaid, who will constantly adjust her dress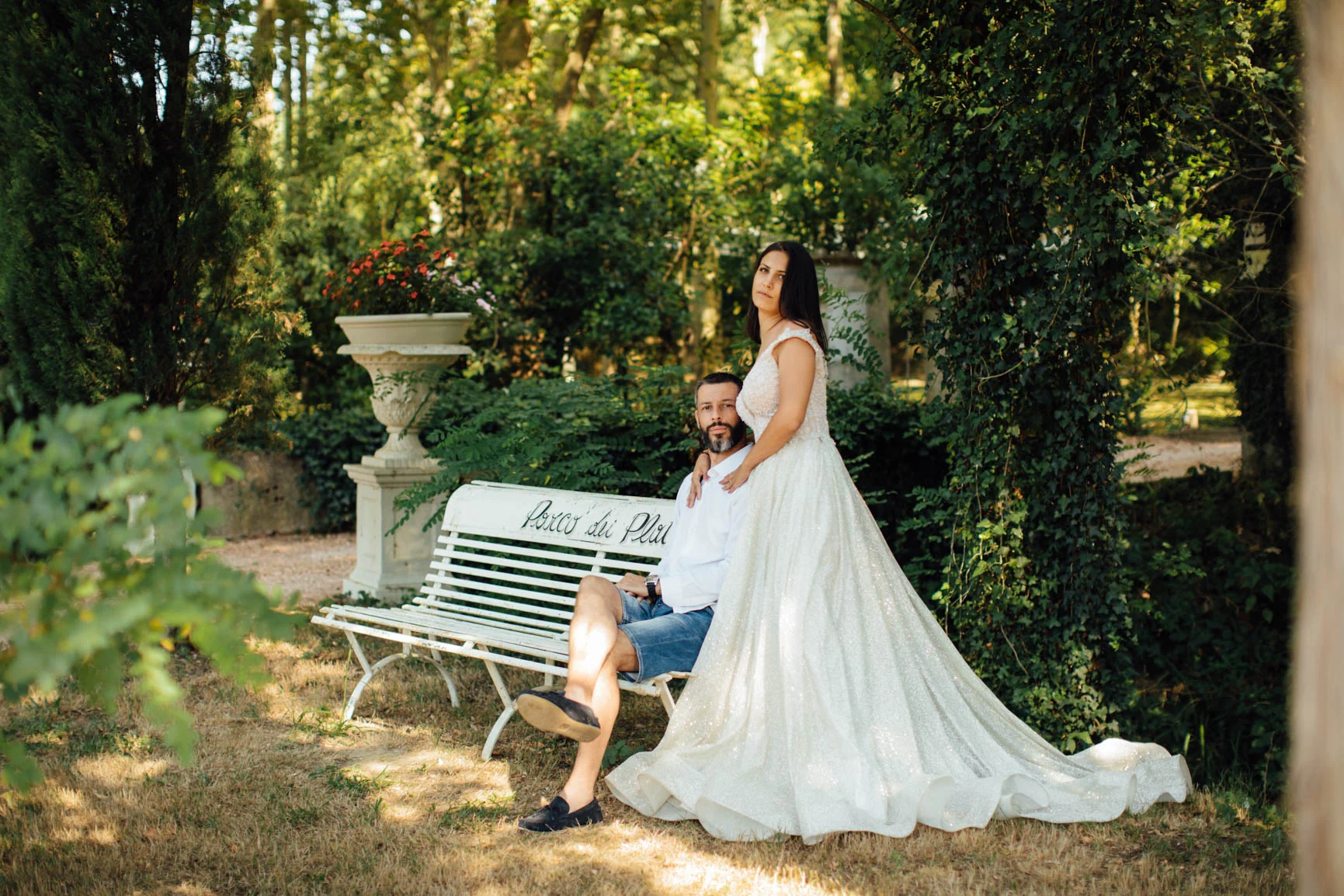 Bridal Salon
First, we tried to show you the worst possible scenarios with a wedding dress. Most girls, when they see that perfect wedding dress in the salon, are determined to wear it on their wedding day no matter what.
However, after spending a few hours in it, most of them say they made a mistake. That there was another dress that was much more comfortable for them.
Dear ladies, future brides, keep in mind that you will spend at least 10-12 hours in that wedding dress, unless you have another dress for dancing and entertainment.
When choosing a dress in the salon, give yourself time to wear it on yourself.
Don't just try it on briefly and take it off.
Don't let them rush you, give you all sorts of advice. After all, you are the one who wears that dress.
TESTING
Your perfect wedding dress needs to be tested in the salon. Jump in it to see if it fits, dance, sit to see how it looks.
This may sound funny to you, but imagine how you would go to the toilet in it, not all bridal salons have a honeymoon suite or a special toilet for the bride in the dress.
While doing all of this, pay attention to whether it pinches you somewhere, how heavy it is. And be sure to bring the most sincere person with you to tell you how it looks on you. Never rely on the saleswoman and her compliments, as that is her job.
In addition to the advice for choosing the perfect wedding dress, we will talk about veils and shoes.
Wedding veil and Shoes
Wedding veil
For many brides, a perfect wedding dress is not complete without a veil.
A veil is an essential and beautiful addition to many wedding dresses that cannot be imagined without it
It looks stunning as the bride enters the church or reception hall, and it is perfect for taking fantastic photographs and videos.
However, it is also often the main culprit in causing the bride's hair to fall apart.
This might be a minor or major issue depending on the hairstyle, as we discussed in our blog post about hairstyles.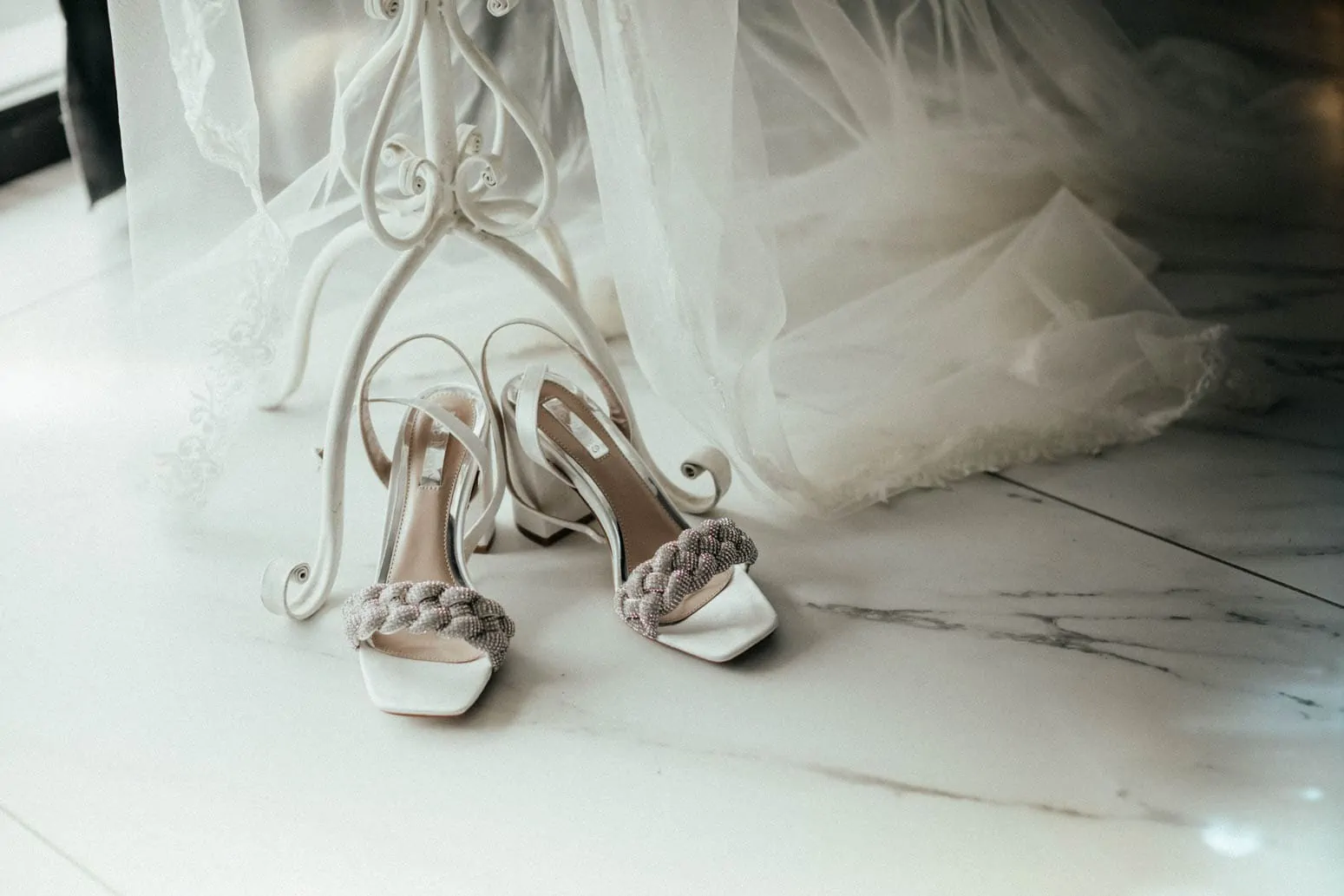 Now let's talk about shoes, sandals, ballet flats, sneakers...
Choosing the right shoes is crucial. It's not easy to dance for hours or walk on grass, pebbles, hay, or whatever terrain you're being photographed or filmed on.
Walk around your house in the chosen shoes and see how you feel. If you're wearing high heels, always have a pair of sneakers or ballet flats, flat sandals, or something comfortable with you.
After all, most wedding dresses hide the shoes, and you won't have to worry about foot pain, so you can dance comfortably.
We hope that our insights from experience will help you choose your perfect wedding dress. We want you to enjoy every moment of that day without any discomfort.